It's well-established in the business press that mobile payments are a growing trend among businesses and consumers. Business Intelligence reported in October 2013 that credit and debit cards are being replaced by smartphones with mobile wallets and payment applications, further bolstered by QR (Quick Response) codes and the smartphone-driven Square Reader.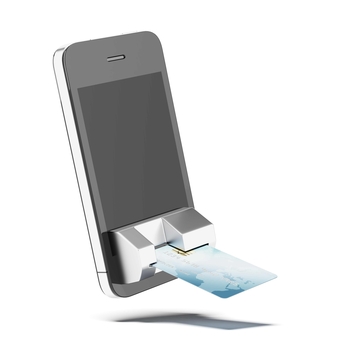 If you are the owner of a small or medium-sized business, you're the ideal candidate for driving mobile payments. Consider adopting or converting to mobile payments and streamline the payment process for both you and your customers.
Use Social Media to Start the Conversation
Regardless of your audience's size on Facebook or Twitter, it's important to let them know that you're offering or considering this convenient service. Use social media as a tool to find out your customers' preference and purchasing habits. Try these conversation starters:
Ask customers if they currently have mobile wallets or PayPal Accounts
Find out what their experience has been using these services
Provide links to consumer reviews of mobile payment services
Invite customers to share their own thoughts or research on the topic
By opening up the conversation you might find that some of your customers are already well-versed on it, particularly if they are online customers.
If you receive less feedback than you hoped for, this could be an opportunity to educate your customers about mobile payment, particularly if you have both a brick-and-mortar shop and an e-commerce site. Explain what it is, and emphasize that it's growing and could be as routine as credit cards in a few years.
Instill Loyalty Through Mobile Payment
If your small or medium-sized business is already signed up for a mobile payment service, make it an opportunity to remind your customers how connected you are with cutting-edge technology. Be forward about making customers aware that mobile payment is an option for them, and share the benefits in both time and efficiency. As mobile payments continue to grow in popularity, customers familiar with the process are likely to seek out and remain loyal to business where it is offered.
Assuming that mobile payments continue to rise in popularity among US consumers, customers who already shop online and/or already use it will be interested to know this, and possibly drive them to shop more often at stores and sites that accept it.
Let Customers Know All Their Payment Options
Research your mobile payment services options—there's more than just PayPal out there.
For example, in November 2013, MasterCard announced that its Simplify Commerce service will allow merchants to accept e-commerce and mobile commerce payments, regardless of the payment brand. And U.S. Bank offers U.S. Bank Go Mobile, an iTunes app that lets customers place their iPhones over a secure terminal to pay for purchases with their Visa cards.
Guest post by: Olivia Wilkins
Olivia has crowd-sourced multiple technology projects and loves to write about the tech world.