Instagram is an online mobile photo-sharing, video-sharing and social networking service that enables its users to take pictures and videos, apply digital filters to them, and share them on a variety of social networking services, such as Facebook, Twitter, Tumblr and Flickr. [via http://en.wikipedia.org/wiki/Instagram]
Instagram is where savvy businesses focus outreach.
Instagram via the PC or a smart phone application is free
Integration with Facebook, Twitter, Tumbler, Flikr and Mixi is easy
Sharing is fast and efficient
Filters transform mediocre mobile photos to professional looking snapshots
Current Instagram monthly active users surpass 200 million just behind Twitters 255 million
Instagram management believes growth will soon eclipse 1 billion
Multiple ways to reach your target audience with video, text and photos
User growth doubles every year
Facebook owns it
Two-thirds of Instagram users are outside the United States of America
It's fun to use
Instagram profiles are neglected, so are posts highlighting important calls to action.
Do visitors know what you do, who you are or what services you offer?
What does my profile say?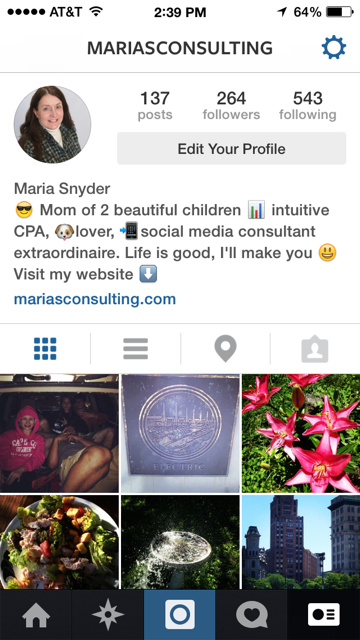 My desire is that you know right away what I do and where to find my services.
Business growth begins as a desire from a customer.
Instagram forges a connection between personal and business. Customers know you are real, that your passion is making them happy and that you exist in many forms. Not many like fake people or fake business do they?
Tips and savvy outreach ideas:
Complete your bio with relevant information, your website is a must
Include informative text with each video and photo
Ask for a double tap
Share offers and discounts
Use Instagram direct for privately shared photos or videos
Run contests and giveaways
Use hashtags
Promote local success stories
Take candid photos of your pets to share once in a while
Develop a unique short hashtag for your business
Post a photo of your QR tag
Make a video of walking in to your location from the street right into the front door
Have fun with photos, be goofy and keep a smile on your face
Like others photos to engage your customers