Can you imagine a world where the only way to reach a service provider is over the phone? Up until 2011, ACN, a North Carolina based marketing company that sells telecommunications, television, electricity, natural gas, and other services through a network of independent agents in 23 countries, had been serving customers exclusively over the phone.
Take It Online
In an attempt to cut down on service costs and improve the overall customer experience, the multi-level business decided to offer its customers the option of communicating with independent sales and service reps through a web-based chat platform. The results were astounding. In a short period of time, ACN was able to reduce the cost of customer support by 12.5 percent. It also was able to take 7 percent more customer requests and deflect 16 percent of phone use to online chat.
More companies are offering chat to their customers to communicate, solve problems and even assist with online orders. Companies like Sprint and even some car dealerships are grabbing customers online and closing sales via chat. You don't have to be a large corporation or a franchise to implement this type of service—you can easily sign up for a standard LivePerson live chat platform and start increasing your conversions immediately. Here are two examples of how text and video chat are helping companies increase revenue and decrease costs for customer support.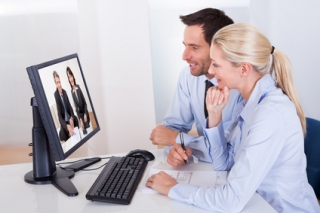 1 Venti 2 Go
To create a more friendly drive-thru ordering experience, a few Starbucks locations in Nevada and Washington are now making it possible for their customers to speak with their barista face-to-face via video chat. Alisa Martinez, a spokeswoman for Starbucks, recently told HuffingtonPost.com that this change has been made in an effort to offer customers more "personal" interaction, while they place their orders. While it's still in the testing stages, Martinez can't say at this point whether the video chat screens will replace all of the PA systems that are currently in use at the other Starbucks drive thru service areas.
Get Answers 2 UR Plumbing Queries Instantly
Live chat is making waves in the world of customer service for small companies as well. Based in the UK, Victorian Plumbing is an online seller for bathroom fixtures and plumbing supplies. Many of Victorian's customers appreciate being able to ask about products while they peruse items offered on the company's website, according to news.yahoo.com. One of the customer service managers at Victorian, Lynette, says that as they've been rolling out this service, they are keeping an eye on feedback and making small tweaks here and there, but their feedback has been mostly positive.
Whether you are a small or large business owner, the message seems to be coming through, loud and clear: customers prefer communicating with reps via chat. If you are a business owner, and you want to improve your customer conversions and reduce your customer support spending, signing up with a live chat provider is definitely the way 2 go!
Guest Post by Ted Briggs. A former IT manager, Ted shares trends and reviews of the latest in customer service tools and software with his readers.